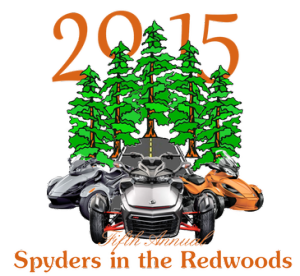 Registration is now open for the 5th Annual Spyders in the Redwoods event!!  Spyders in the Redwoods was selected by BRP as one of seven BRP-sponsored Can-Am Spyder Owner's Events in the U.S. and Canada for 2015.  We are so very grateful and appreciate all of the support we have had over the years.  

You can register for the 2015 event from March 15th until July 18th  (11:59 PM PDT). Please visit the Registration Page to complete your registration.  After that, do not forget to check our Lodging Page for lodging information and host hotel / venue information.
Also, please check out our Sponsor / Vendor Page to see who you can expect to see at this year's event.  Vendors, please go to the Vendor Registration page to complete your registration.
This year is going to be epic!!
Please contact them at spydersintheredwoods@gmail.com with any questions.
   The San Diego Chapter held their 4th annual Spyder Safety Day at Escondido Cycle Center this weekend. it was GREAT success. The Tech Talk by Herm was very informative, the safety session with Steve was well presented and brought up several eye opening examples of things all ryders need to consider when ryding in a group.
Nearly 40 Spyders and 50+ people attended.
All in attendance received a special Spyder Safety Day pin.
The three Southern California Chapters got together a few weeks ago for a ryde through the Avocado valley of Northern San Diego County. Here is a great video of the "Valley Of the Avocado Ryde II" (thanks Fred Rau)  Thanks to Steve and Staci  for planning a GREAT route…. The day was filled with sweet views, great roads, good friends and lots of smiles….
Happy new year to everyone, and a belated welcome to our Puget Sound, Florida West, and Magnolia Chapters! We hope your rides are safe and the coming year is prosperous.