In December 2016 Spyder Ryder of America was thrilled to add our newest chapter to the ever growing list of chapters for coast to coast. The new Orange County Chapter is serving the areas of Orange County California and well as the Los Angeles area. They are a VERY active group that loves to ryde. Look them up on Facebook and welcome them to the family.
https://www.facebook.com/groups/1850782011803602/?fref=nf
Here is a picture from their recent ryde to the foothills of the San Gabriel Mountains.
(See it does snow in Southern California)
On October 29th Spyder Ryder of America was very proud to help present a check  for $20,000 to the Pediatric Brain Tumor Foundation and the Ride for Kids on behalf of Spyder Ryder of America – National and BRP CAN-AM Spyder.
A giant THANKS to everyone that made that possible. Our California chapter members volunteered all summer long to help BRP with their "Do It California" demo ride events. SRA asked BRP to make a donation to our favorite charity, the Ride For Kids to help kids with brain tumors. THANKS to our friends at BRP!
With the help of the Sacramento, San Francisco Bay Area, Inland Empire, Riverside County, Los Angeles and San Diego Chapter we were able to donate nearly $28,000 to help fight and find a cure for Childhood brain tumors.
Find out more about the mission of the Pediatric Brain Tumor Foundation here
http://redrockspyderrally.com/
Only in Utah can you find FIVE breathtaking National Parks!!  Many call Utah the most beautiful state in the nation.  It's really hard to argue with that.  Its vast canyons, flowing rivers, red rocks, arches, and vastly towering mountains will have your senses truly emerged in the beauty that is the State of Utah.
Below are just a few things that you can expect to see during your attendance of the Red Rock Spyder Rally, or on your way to or from the event.  Links are located below the description for more information.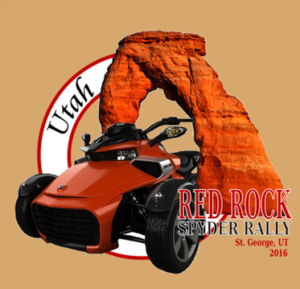 Please welcome the 2 newest chapters to the Spyder Ryder of America family.
Our 30th Chapter: The Ladies Eastern National Chapter will serve our Lady ryders in the Eastern US from a base in the Washington DC area.
Our 31st Chapter: The Riverside County Chapter will serve ryders in the Riverside California area.
Please visit these chapter online and welcome them to the family, we are proud to have them aboard.
Spyder Ryder of America is pleased to announce our 29th chapter, The Four Corners Chapter is the newest addition to the SRA family. Please be sure to drop by their Facebook page and welcome them aboard.