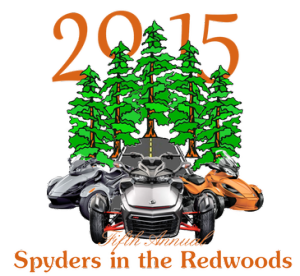 Registration is now open for the 5th Annual Spyders in the Redwoods event!!  Spyders in the Redwoods was selected by BRP as one of seven BRP-sponsored Can-Am Spyder Owner's Events in the U.S. and Canada for 2015.  We are so very grateful and appreciate all of the support we have had over the years.  

You can register for the 2015 event from March 15th until July 18th  (11:59 PM PDT). Please visit the Registration Page to complete your registration.  After that, do not forget to check our Lodging Page for lodging information and host hotel / venue information.
Also, please check out our Sponsor / Vendor Page to see who you can expect to see at this year's event.  Vendors, please go to the Vendor Registration page to complete your registration.
This year is going to be epic!!
Please contact them at spydersintheredwoods@gmail.com with any questions.